Whenever you think of you a referee, you typically think of a man in a black
and white striped shirt. However, their are a few women referees out there enforcing rules & doing their job.
How long will it take for a female referee to appear in the area? Especially after this story.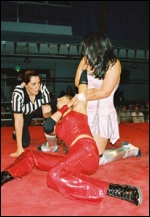 Kristina McGraw had very little wrestling knowledge before meeting her husband.She started watching wrestling with her husband in 1997. She quickly became hooked with the physicality and the showmanship of the sport.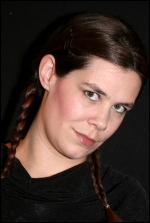 In September 2001, she joined the APW "Bootcamp" and made it about three months before getting injured. Although an in-ring injury often derails the career of a pro wrestler trainee and causes them to leave the business, it didn't for tough Kristina McGraw. Instead, Kristina simply altered her goal slightly and focused on training to become one of the best
referees possible. Now wearing her stripes for over half a decade, Kristina is fast-becoming one of the most popular referees--male or femal
e-- on the West Coast.

Kristina hopes to one day become experienced enough to perhaps be the first female referee t
o land in WWE, TNA, or working in other countries.

Another Popular female referee is Katie Kincaid from South Carolina. Growing up as a loyal wrestling fan, Katie decided to pursue her dream of being a wrestler. She contacted Shane Helms, who lived a few hours from her. Shane advised Katie to contact CWF Mid Atlantic to train. While training, she started to referee matches with other trainees and fell in love with refereeing.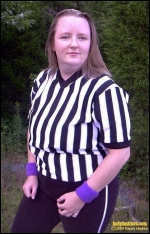 She has worked many promotions such as Appalachian Championship Wrestling, Ringside Championship Wrestling, CWF Mid Atlantic, and Southern Wrestling Alliance in Tennessee.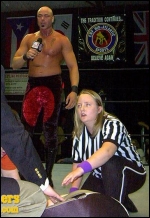 It is a very big deal to Katie to be constantly improving. Her main goal is to continue getting better with every show. She would love to get a chance to work in Ring of Honor.


Female referees are rare to find. Although these two ladies have made a name for themselves in the wrestling world. It doesn't matter whether it's a match between two ladies or four giant 350-pound men in a violent tag team brawl. Kristina and Katie won't back down from doing their job.